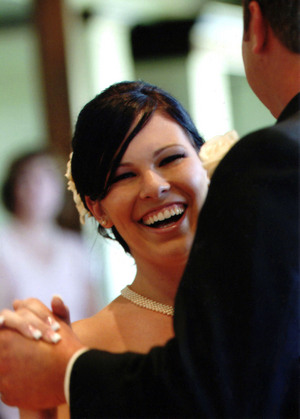 Personal References
"I want to thank you for a terrific performance at Kimmie & David's Wedding. I had heard that you were the best, and now I know it. As an LA TV Broadcast Director of 33 years, creating "on the fly" has always been my way of doing business. I appreciate the way you rolled with the punches as we kept changing the format. Friends from Entertainment Tonight will be editing the day's video footage which will clearly reconfirm your talents."
Steve Skinner and Family
"Our Wedding Reception was absolutely perfect, beautiful, and unforgettable – thanks to you and your associate. We, as well as our guests, had a wonderful time and we deeply thank you for your personal attention and professionalism. Again, thank you for such excellent service."
Reeve and Alison Hartman
"Blair, we just got back from our honey moon in Costa Rica this past weekend and had a blast! Our Wedding Day was such a memorable and wonderful experience! We throughly enjoyed it and it was one big party, just the way we wanted it! The music was absolutely fantastic and we could not have asked for anything more. Here's the link to our Wedding Video Trailer which says it all!" http://vimeo.com/10612143
Billy and Kay Watson
"Blair, you are so incredible! You made the night move! I can't tell you how many compliments you received from my friends about how you kept everything going! There are a some girls that will be getting married soon and I will certainly be recommending you. Thank you so much for helping to make our Dream Day come true!"
Mike and Erica Hawkes
"You cannot go wrong when you use Blair Silver & Company for your next event. Blair was the DJ/MC at our wedding and he and his crew helped make our event just perfect. His ability to keep things flowing and on schedule helped make everything work. His choice of tunes is very wide, from the classics, to rock, to hip-hop and rap. He was even able to add some world music that we had in mind from his extensive music library. Blair works with you to make your event special. He and his team exceeded our expectations completely."
Tom and Juliana Lynch
"Blair performed and officiated at our wedding reception. We enjoyed his services far more than I had expected, or imagined how valuable they would be. He anticipated our pace of reception activity, making appropriate laudatory comments, introductions, and announcements. Blair set up toasts, introduced enjoyable group dancing, and in general provided continuity through the evening. His music selections were well-received by all. Blair was professional in manner and dress, a complete joy and pleasure to have at our reception.
Paul and Mary Breithaupt
"You were sensational! We could not be more pleased. Blair, you are professional and have true talent. You kept all of our guests laughing with your wit and sense of humor and dancing the night away with your wide selection of music. We are sure we'll see you at future events."
Joe and Barbara Violette
"We wanted to express our appreciation to both you making our wedding day so special. We were all thrilled with your stylish and smooth performance!!! In short, you were wonderful!!!! Many, many thanks!!!
The Martinez and Gonzales Familes
"The Music, Entertainment and Involvement you provided at Joanne's Bat Mitzvah were superb! What A Show!"
Beanne & Jock Brown
"Thank you for your wonderful job at our Wedding. We have gotten so many compliments on you and your services. Both of our families had a great time. It would have not been possible without you there.
Kacey and Dan Weissenstein
"What Can We Say??!! It wouldn't have been a party without you. After you did our son Dave's Graduation Party, we knew you just who to call for our daughter Diane's Wedding. We can't wait until we have another occasion to celebrate so we can invite you to add your great talents."
The Maloney Family
"Thank you for doing such a fantastic job at our Wedding! Everyone continues to tell us what a great time they had. We were all able to relax, enjoy ourselves and dance the night away! Thanks again for everything."
Deanne and Frank Hernandez
"This is the second time we placed our trust in your judgement to follow our wishes, customs and our culture. You came through again by professionally encouraging everyone to have a great time and we did! Respectfully."
The Inatomi Family
"Thank you for making our 50th Anniversary so much fun and so memorable. Your friendly and easy way of interpreting what people enjoy will assure our highest recommendation."
Jack and Dolores O'Neill
"Everyone continues to talk about what fun they had because of your fun-filled crowd involvement and engaging personality. You put joy in their hearts and made us all feel like dancing. We enjoyed every single beat of music and will replay each moment for a lifetime!"
Paulina and Kennith Smith
"Clay and I wanted to thank you for making our Reception PERFECT!! Our day turned out to be all that we hoped it would be… and more. Everyone had a great time. We can't thank you enough."
Shannon and Clay Hoppes
Corporate References
"I have had the distinct opportunity to work with Blair Silver many times over the past eight years. Blair and his associates are professional, courteous, patient and calm under all circumstances. They simply make the party happen"
Directors Of Catering – Four Seasons Newport Beach & The Clubhouse At Pelican Hill
"It is always a delight to work with Blair Silver and his experienced staff. Most appreciated, is his sincerity in creating memorable events for our hotel staff and guests alike. He is number one on our Preferred Vendor List for Entertainment."
Special Events Coordinating Staff – Shutters On The Beach & Hotel Casa Del Mar
"Thank you for yet another quality performance during our past New Year's Eve Festivities. Not only do you and your staff always provide great entertainment, but you are always friendly, accommodating and interact professionally with our hotel patrons. We look forward to working with you again at our Annual Toyota Grand Prix Weekend Event and more!"
Directors Of Catering, The Food & Beverage Staff – Long Beach Hilton
"Blair, on behalf FUJIFILM, we thank you, Sandi, Dennis and your entire team for designing and producing our Polynesian Paradise Theme Party which was such a success. Everyone enjoyed the interactive stage performers, children's activities and the broad variety of wholesome fun not to mention in the elaborate tropical setting. We will definitely be calling for your services again in the near future."
Mark Yonskie, Trade Show Events Manager – Fuji Photo Film U.S.A., Inc.
"On behalf of the B.A.B.C.O.C. Board of Directors, I would like to thank you for servicing our Annual Casino Night, Christmas Luncheon and New Year's Eve Dinner Dance, inclusive. With your professionalism, talent and humor, our events are always successful. You, literally, make it all happen. I certainly appreciate your commitment and help during each and every one of our special celebrations. I honestly could not have run them without you."
Valerie Blackholly, Special Events Coordinator – British American Business Council Orange County
Thank you for the exemplary job you and your staff did at our Annual Gala and Recognition Banquet. Your professionalism and people skills kept the event festive and entertaining for everyone who attended. I was especially impressed by the way you motivated the guests with a broad variety of games and engaging activities."
Marc Jackson, Director of Communications – American Red Cross
"On behalf of the National Low Income Energy Consortium, we cannot adequately express how much your Entertainment contributed to perhaps The Best Ever evening event we've had since… you worked our 1991 conference!!! Heaped with compliments, we clearly made the right decision to select the best in the business.
Suzanne Middelburg, Treasurer, Conference Planning Chair – Southern California Edison
"You did an outstanding performance at our Annual Christmas Party. You were absolutely WONDERFUL!!! Enclosed please find a token of appreciation. Please mark your calendar for our Company's 40th Anniversary Celebration and December for our Annual Holiday Party as we would like to have you once again make our parties a hit."
Ann Morefield, CEO – Morefield Construction, Inc.
"I just wanted to thank you for your excellent work at our Annual Newport Beach Four Seasons Holiday Party. There has been nothing but positive feedback regarding the music and how you were able to bring the group out of it's shell. With your expertise, our entire corporate staff had a great time beginning to end."
Lola Sather, Sr. Executive Offices – Orange County Teachers Federal Credit Union
"Thank you very much for your musical services and talents at our Mardi Gras Carnival in Brazil. Our event was a tremendous success and we couldn't have done it without you! We appreciate your professionalism and assistance in planning our program. I hope we have the opportunity to work together again in the future."
Annette Kashiwabara, Director of Marketing and Special Events – Long Beach Day Nursey
"This year we opted to contract a Live Band as well as you for your DJ Services. Initially, the concept was unimaginable to our committee, but you kept the Theme going by seamlessly alternating with the Band's Sets, playing Great Music and just the right touch of MC-ing to keep everyone motivated and informed. Bottom Line, Our Event was more successful than any year before and we Thank You for being a Big Part of the Equation!"
Queen of Angels Medical Center – Los Angeles, CA